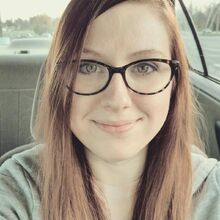 I'm known around these parts as Clary, but you can also call me by my actual name (Emily) if you prefer. I'm a 20-something licensed nurse in Ohio, USA, who is obsessed with television, YA supernatural/fantasy fiction, and learning as many languages as I possibly can. I'm fluent in three languages-- (American) English, (Latin American) Spanish, and (Brazilian) Portuguese-- but I also know the basics of French, Italian, German, Russian, Dutch, and Norwegian. In my free time, I am a freelance editor, which contributes my addiction to revising and updating wiki pages.
I work as a drug and alcohol rehabilitation nurse who works weekends and thus spend a limited amount of time on wikia during this period, but I am present most of the day throughout the week. Feel free to drop me a message about any subject, I don't bite. :)
FANDOMS:
TV: The 100, Agent Carter, Agents of SHIELD, AKA Jessica Jones, Angel the Series, Arrow, Beyond, Bitten, Black Lightning, Buffy the Vampire Slayer, Charmed, Cloak & Dagger, Containment, Daredevil, From Dusk Till Dawn: The Series, Game of Thrones, The Gates, The Gifted, Gossip Girl, Heroes/Heroes Reborn, House MD, Legends of Tomorrow, Lost Girl, Lucifer, NCIS, NCIS: Los Angeles, Nikita, Once Upon A Time, Reign, Riverdale, Runaways, Scorpion, Scrubs, Sense8, Shadowhunters, Smallville, Supernatural, Teen Wolf, The Flash, The Tomorrow People, The Messengers, The O.C., The Originals, The Secret Circle, The Shannara Chronicles, The Vampire Diaries, Weeds, Witches of East End, Wolfblood, iZombie.
BOOKS: A Song of Ice and Fire series, Blue Bloods series, Harry Potter series, The Caster Chronicles series, The Hunger Games trilogy, The Mara Dyer trilogy, The Raven Cycle trilogy, The Shadowhunter Chronicles series (including The Bane Chronicles, The Dark Artifices, The Infernal Devices, The Mortal Instruments, and Tales from Shadowhunter Academy), Vampire Academy series, Witches of East End trilogy, Women of the Otherworld series.
MOVIES: Harry Potter series, Marvel Cinematic Universe (Iron Man, Captain America, Guardians of the Galaxy, The Avengers, Thor), The Hunger Games, Underworld, X-Men.
Community content is available under
CC-BY-SA
unless otherwise noted.